I thought it was a good idea to try a bootcamp...at 7am.
It's true when they say "you never regret a workout"! I walked out of bootcamp feeling like a million bucks rolled over seven times in my own sweat.
I couldn't help but notice the dynamics of the people in the fitness class. Here are a few of my favorites!
1. The BFFs
: The group who all magically show up together and move around in herds. Don't get caught between them!
2. The Loner:
I have the most respect for these people. They're not intimidated by the BFFs or super athletes. They come, get the workout done and leave without a trace.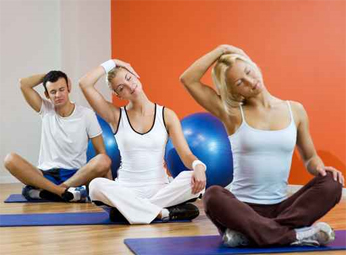 The only man in class.
3. The Conversation Starter:
The person who came alone but plans to leave with a new gym buddy. I actually made a really good friend this way! No I wasn't the conversation starter!
4. MAN:
The only male in the fitness class.
5. Puddle Hurdler:
The person that sweats enough to drown the entire fitness class. They're constantly hurdling around their own puddles of sweat & you hear the squeak under their shoes. (THIS IS ME! Stay away if you see me!)
6. Mr./Ms. Competitive:
Before grabbing their own workout weights they look around to see what else everyone is using.
7. Left the Deodorant at Home Person:
They have their own unique smell.
8. Mirror Hogger:
The folks that hog the mirror or choose to stand directly in front of you.
9. Territorial Person:
Since when did this area of wood flooring belong to you? I'd appreciate it if you'd stop throwing knives in my direction. I know we are people of habit but HAHA beat you to
your
spot!
Ms. Fitness Centre
10. Ms Fitness Centre:
The person coming to class with full blown hair and make up done. I don't get these people especially at 7am fitness classes. I just barely rolled myself out of bed!
11. Moves to the Beat of Their own Drum:
Doesn't matter what the rest of the class is doing this person will be doing what
they
want to.
12. First to Finish:
The person that always finishes first and looks around at everyone else. I always imagine them thinking "HA still not done? That was a breeze!"
13. Over Energized Fitness Instructors:
Just my luck, the instructor is already bouncing off the walls. I'm pretty sure they live off of endorphines. I actually love these instructors, really help to pick the class up even on the morning you wish you were still in bed.
14. Super Athletes:
You get the point.
Without these group fitness characters, fitness classes just wouldn't be the same. Yes, I spent almost the entire class thinking about this post.
What other characters are in your fitness classes?